SHTFDad may collect a share of sales or other compensation from the links on this page.
Introducing the Hydra-Light: The Salt Water Powered Lantern & Charger!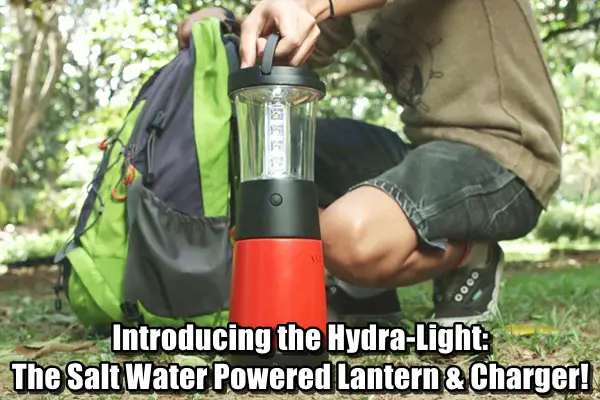 Away from the wall socket or without your charger, a rechargeable battery is no better than a disposable. In the US alone there is over $2 Billion1 spent on dry-cell batteries each year and most of those end up in the household garbage. Those batteries often go dead on the shelf. Solar must be kept in the sun, and there must be sun.
A startup out of Australia may have the solution, they created a Saltwater EnergyCell, roughly the size of a small can of soup, it has power equivalent to 85 general purpose AA batteries, at just a fraction of the cost. With that kind of power potential, the Saltwater EnergyCell could have hundreds of applications.
Hydra-Light, the company behind it all, hoping to raise a minimum $25,000 going the crowdfunding route have launched a Kickstarter campaign on February 17. The first ever application for Hydra-Light's EnergyCell technology is in their own custom designed PL (Personal Lantern)-500, a 16-LED camping/emergency lantern with USB power output for charging phones and gear. The EnergyCell will power the Lantern for 250+ hours, or will trickle-charge the internal power storage to charge smartphones and other USB devices. You can expect to charge a mid-sized smartphone 8 to 10 times on a single PowerRod. Take the EnergyCell with you, it's like bringing your wall socket and charger wherever you go.
Here's How it Works: Pour either seawater or tap water and a bit of salt into the EnergyCell. The saltwater activates a process where a biodegradable PowerRod immediately begins to oxidize, releasing so much electricity it will power a 16 LED lantern. An advanced carbon cathode material picks up the electricity released into the saltwater and delivers it to the lantern or the internal storage. The easily replaced PowerRods, made of a metal alloy, will last 25+ years on the shelf without loss of power.
The PL-500 may be an ideal solution for emergency light and phone charging or for all your travel and outdoor activities. Hydra-Light has an interesting bonus available on Kickstarter, the PL-500 comes with a palm sized accessory light on a 30 foot (9 meter) lead, that plugs into the lantern, so you can have light in two places at once. Why didn't others think of that.
Less expensive than batteries, cheaper and safer than Kerosene, the creators are hoping future products on the drawing board will make a big difference in the lives of the 1.2 Billion people living in poverty beyond the reach of the electrical power grid.
To get your hands on one, support the start-up, or simply learn more, click this link to Kickstarter
"Sales of the leading alkaline battery brands in the United States in 2014 (in million U.S. dollars)" Statista: The Statics Portal http://www.statista.com/statistics/309871/sales-of-the-leading-alkaline-battery-brands-in-the-us/ Retrieved January 8, 2016

---
Bonus: Root Cellar That Can Be Used as a Bunker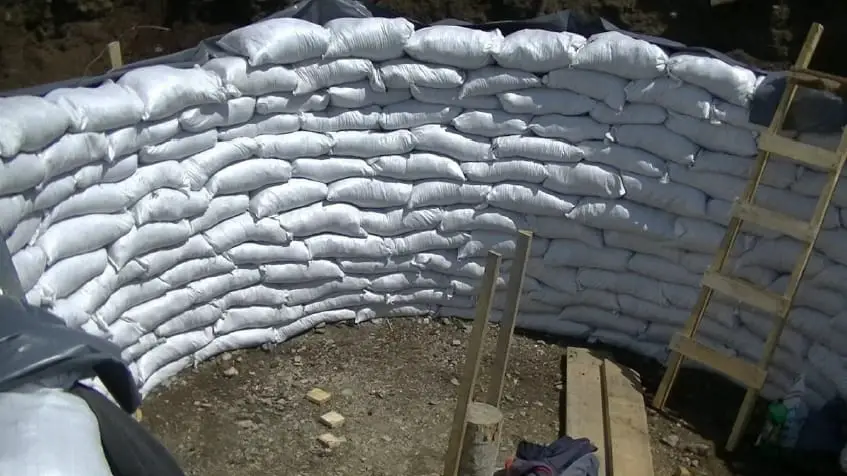 If you can't afford the box culvert option you can look into is building a backyard root cellar that can be used as a bunker.
If you want to learn how to build a backyard bunker like your grandparents had, without breaking the bank, then check out Easy Cellar.
Easy Cellar will show you:
How to choose the ideal site
Cost-effective building methods
How to protect your bunker from nuclear blast and fallout
How to conceal your bunker
Affordable basic life support options
Easy Cellar will also show you how a veteran, with only $421, built a small nuclear bunker in his backyard.