SHTFDad may collect a share of sales or other compensation from the links on this page.
Every good prepper knows that having the right ammo storage containers is extremely important.
Modern munitions are designed to withstand the elements, but long-term exposure can still take its toll. Your ammo will be the currency by which you survive if SHTF.
You'll need it to barter and hunt, and, ultimately, to protect yourself and your property.
You don't want to pull the trigger on a dead round when your meal (or your life) could count on it.
Today, we're talking about keeping the stockpile ready by investing in the right ammo storage containers.
Long Term Ammo Storage Containers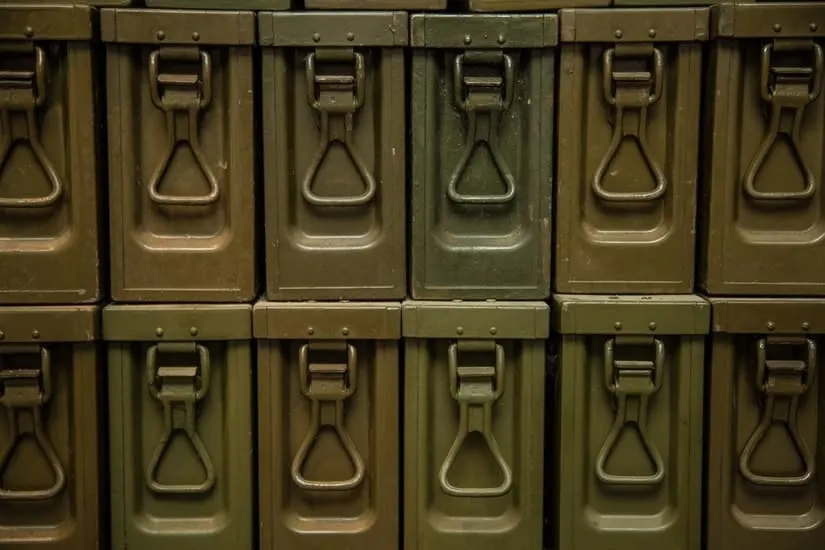 First, some good news: If stored properly, your ammo can easily outlast you.
Likewise, if perfectly sealed and stored, your ammo could be stable for well over a century, offering the same velocity and consistency as the day each primer capped its casing.
Storing Ammo Properly: Dark, Dry, and Cool.
Now the bad news: Long-term exposure to temperature changes, sunlight, and moisture can cause shell casings, lead, and copper jackets to corrode.
Primers are sensitive to any moisture. Even if sealed, they can fail over time and allow gunpowder to suffer the consequences, too. The propellants in gunpowder are also sensitive to repeated extreme temperature cycles.
"Dark, dry, and cool" are the three words that should describe how you store your munitions.
Storage Factors to Consider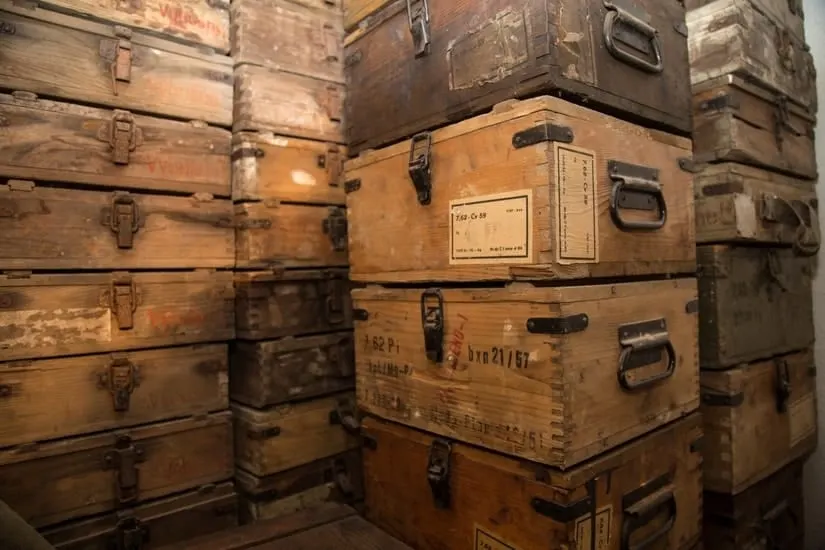 Every prepper's SHTF plan is different. Some bug in while others may have a plan of travel.
We'll review how to store your ammo portably with an ammo case or ammo crate, and we'll look at permanent storage options like an ammo cabinet or safe.
Where to Store Your Ammo
Regardless of the container, you're using, store your ammo in an environment that sees little to no sunlight and temperature fluctuation.
Changes in temperature naturally invite humidity through condensation, and UV exposure can accelerate the process of corrosion dramatically. Consequently, this effectively rules out attics and sheds or merely throws your ammo on a shelf.
Basements and, for those of you who can manage them, underground bunkers are the perfect place for long-term storage. Above-ground temperatures can fluctuate wildly by day and night, while temperatures just 10 feet or more below ground only fluctuate by 20 degrees or less, year-round.
Keeping your Ammo Dry
Basements and below-ground storage areas can be moist environments, and moisture is even more dangerous to your ammunition than temperature changes and long-term exposure to sunlight.
To effectively battle moisture, your ammo must be stored in a completely sealed container. We also recommend investing in one type of desiccant dehumidifier. You already know what this is if you've ever found those small, white packets of beads in a box of new shoes.
A desiccant is a drying agent that sucks moisture from the air. Those little desiccant silica packets are perfect for providing some extra protection against moisture. If placed in a properly sealed ammo case, these packets will last years.
Sale
Dry & Dry 10 Gram Silica Packets
[Warranty Information] Our products are supported...
[How To Use] Place your items and silica gel...
[Food Grade] white silica gel beads Only; These...
These little packets are also reusable. Simply heat them in an oven at 200 degrees for 30 minutes to 1 hour, then throw 'em back in storage.
Best Ammo Storage Containers
Just because your ammo must be hermetically sealed does not mean it can't be easily transported.
And you might be surprised to find that one of the best storage options is also one of the most well-established and most affordable:
U.S Army M2A1 .50 Cal Ammo Can
There are loads of ammo containers on the market labeled "USGI" and "military-style". Some might even look military-issued, sporting the same shape, some OD green colors, and welded metal latches and handles. You should ignore most of these alternatives.  
There is only one ammo can that should be trusted for decades-long ammo storage, based on experience and military testing requirements: The original M2A1 U.S. Army .50 Cal Ammo Can. It has long been proven as one of the best storage options, maybe ever.
Specifications:
Steel plate construction
Weatherproof painted finish
Welded latch, lid, and handle
Waterproof rubber gasket seal
Measures 12-1/32" x 6-3/23" x 7-1/2"
Capacity:
56/.223: 1,200 rounds
9mm: 1,000 rounds
The M2A1 looks like a simple ammo can and many others appear the same at first glance, so why is this one so much better than the rest? Because the U.S. Military subjects it to extreme quality control standards.
Quality Control
The MIL-DTL-3060F is the military's detail specification document that governs the production and overall quality of the M2A1 Ammo Can. Here are just a few of the requirements it must meet to pass muster:
The handle must withstand up to 300 pounds of force for one minute without separation or failure.
The latch, cover, and hinge must all withstand the same force without separation or failure.
The assembly of the hasp to the box must withstand 1,000 pounds of force for one minute.
Gasket seal compression must measure 0.090", plus or minus 0.020" when closed.
The exterior surfaces of the box shall show no visible evidence of paint blistering or corrosion after being exposed to a 5% salt spray solution for 80 hours.
Suffice it to say, few to no commercial ammo can makers subject their containers to this level of scrutiny.
The military makes sure each unit can provide the necessary airtight, waterproof protection for any ammo inside, making it an easy purchase on quality and price alone.
Warning!
Many M2A1 cans are sold used or as old surplus. While they're great as range boxes, these cans should be avoided for long-term storage use. Gaskets often fail on these used models and some may show signs of rust or corrosion on welds and fittings.
Pelican Hardigg Military Footlocker
Pelican 1510 Case With Foam
Watertight, Crush-Proof and dust-proof. Lid...
FAA maximum carry on size
Open cell core with solid wall design to make a...
If you hadn't guessed it by now: Yes, the military really does find the best storage options for ammo. For preppers who want a much larger (albeit still portable) ammo case, the Pelican Hardigg Footlocker is the perfect setup.
Specifications:
Heavy-duty wheels for transport
Soft-grip handles for lifting and pulling
Removable trays for separating munitions and supplies
The pressure equalization valve prevents seals from being compromised
Lock-ready hasps for securing case with padlocks
Withstands temperatures -40 (F) to +210 (F)
IP68 waterproof rating
Measures 32" x 20" x 20"
Capacity:
Tens of thousands of rounds
To call this a simple "plastic container" is to insult it! If you're unfamiliar with Pelican, they're one of the very few commercial companies supplying containers to the U.S. Military.
The average Pelican Case can be dropped from mid-air, reach velocity, impact open water, and then be fully submerged – all without letting in a drop of water or molecule of open air.
Smaller Options
A full-size Pelican Footlocker can go for $350 new. Pelican offers smaller and less expensive ammo case options like the Pelican 1510 case, measuring 22" x 13.8" x 9".
Pelican 1510 Case With Foam
Watertight, Crush-Proof and dust-proof. Lid...
FAA maximum carry on size
Open cell core with solid wall design to make a...
This smaller version features the same construction, seals, wheels, pressure valve, handle, and locking holes.
Aluminum Worksite Box
Ever see those diamond-plate tool boxes on the back of pickup trucks? Those same boxes can be easily bought in a permanent storage configuration for your home or basement. Typically called worksite boxes, these aluminum or steel storage containers are perfect for storing bulk ammo.
Lund is one of the better names in the storage box and toolbox market. Their 32" aluminum storage box is one of few workboxes with waterproof seals, making it a great choice for storing your ammo at home.
Specifications:
Diamond plate aluminum
Black powder coat finish
Weather gasket seals
Handles on each side
Locking latch opening
Measures 32" x 12" x 13.5"
Capacity:
Tens of thousands of rounds
Good Ol' Gun Safe
Many preppers desire maximum security above all else. So some choose to lock up and hide their ammo in a gun safe.
As a good prepper who keeps on the down-low, keeping your ammo locked away with the unregistered AR-15 you built with a receiver blank just makes sense, right?
Gun safes are great for insulating against temperature changes and direct sunlight. After all, they're made of ¼" to 1" thick steel plate.
Except for their protection and security, gun safes are typically not sealed off from air and moisture. There's nothing wrong with storing your ammo long-term in a gun safe. However, if you do, we recommend buying some larger desiccant packs and regularly swapping them out to prevent moisture from building up.
For larger gun safes storing bulk ammo, we recommend picking up a 448-gram (1-pound) desiccant pack. This pack will adequately remove any moisture from your gun safe and maintain a dry environment for at least one year of continuous use, even in a damp basement.
Simply heat the packet to draw out moisture (this larger pack requires 4 hours in the oven at 200-250 degrees), and re-use it every year.
Summary
Whichever ammo storage containers you choose, know that you must battle temperature changes, direct sunlight, and moisture.
It's always a good practice to throw in a desiccant pack with your ammo, no matter the can, case, or safe you're using. Try to avoid buying used or old surplus containers. Their gaskets and seals usually go bad.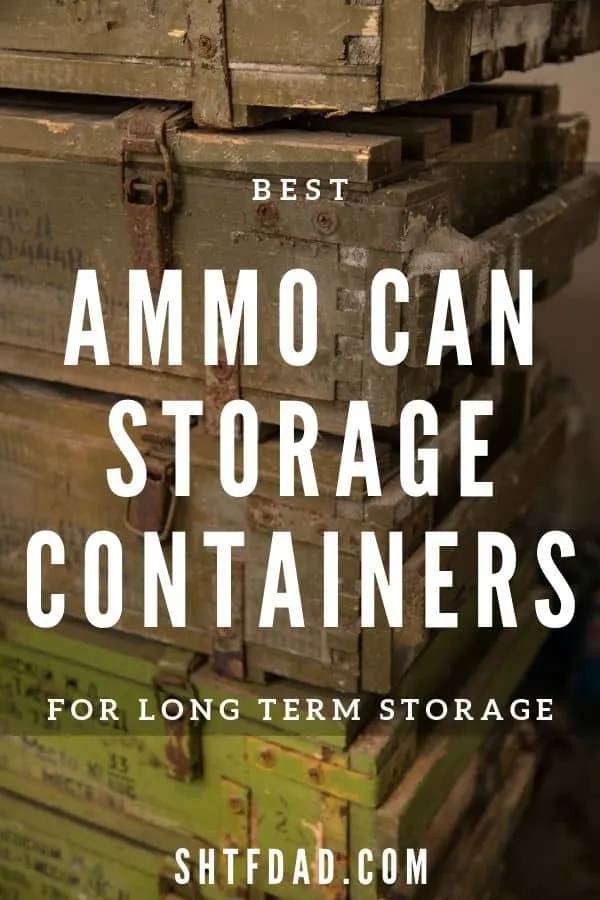 ---
Resources: