SHTFDad may collect a share of sales or other compensation from the links on this page.
A survival knife is one of the most important tools to have when you are out in the wild.
Whether you are outdoors camping, hunting or fishing, a durable blade comes in handy for several things.
While there are a variety of survival knives available in the market, each knife is not created the same. For many of us, it often comes down to finding the best survival knife for the money.
But what really makes some survival knives better than others?
The Best Survival Knife For the Money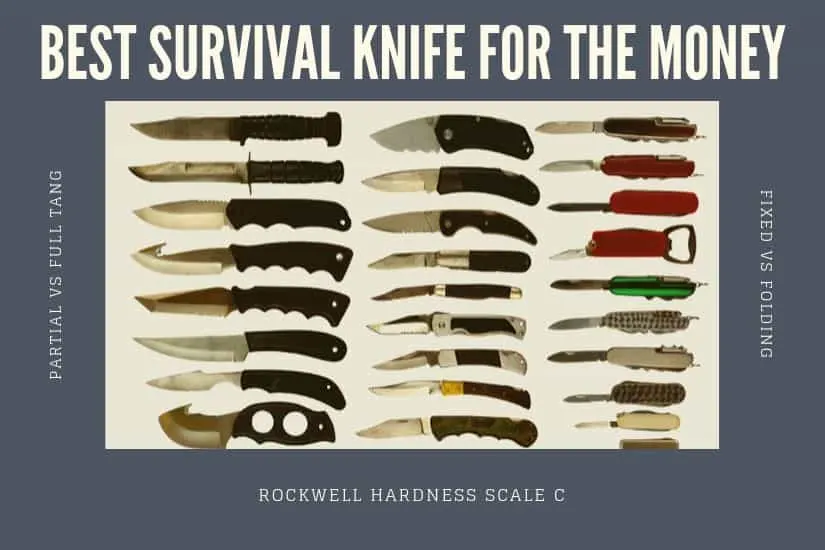 Now you know what to look for, here is a list of 6 of our favorite best survival knife for the money.
They rank high almost across all spheres and are considered some of the best survival knives in the world:
---
KA-BAR USMC Straight Edge Knife
Sale
The KA-BAR USMC knife features a time-tested design that has been around since World War II. This is the knife your father took back from Vietnam or Europe explaining to you how many times it saved his life.
It's a very well-made tool for camping expeditions and comes in handy as a weapon when the situation demands it. Forget slicing through a plastic bottle, the sharpened 7-inch, 1095 Cro-Van carbon steel blade can even shave the hair off your arm.
The blade also features an indentation near the spine for mess-free stabs. The leather sheath offers excellent durability but might lose its original color and shine due to prolonged exposure to wet conditions.
Besides being a combat knife, the KA-BAR USMC knife is just as efficient for opening cans, cutting wood, cables, and wires, digging trenches, cleaning fish, and more. Whether you are a first-time camper or a survival enthusiast, this is a well-rounded option that you should consider.
---
Gerber LMF II Survival Knife
GERBER LMF II Survival Knife
Originally designed to free an aircrew from a...
Tough enough to cut through the fuselage of an...
Purposeful break between the tang and the butt...
The Gerber LMF II Survival Knife is not just our favorite, it has garnered much praise from pretty much every knife enthusiast in the world, and there is a reason for that.
There's practically nothing that this knife won't do! After all, it's been developed with combat survival in mind. The knife is extremely versatile and fit to be used in emergency scenarios, outdoor adventures as well as for things that one does every day.
The knife has a 4.84-inch blade crafted from 420HC stainless steel which makes it extremely durable. Its nylon handle can absorb shock well and provides a fantastic grip.
The Gerber LMF II's are fixed blade knives with a sleek and smart look. Their drop point blade design also provides them with additional power and support.
There are three holes- two holes to make it into a spear and one at the end for a lanyard. There's also a built-in serrated edge, so cutting ropes and trees can be a relative breeze.
The Gerber LMF II is not only large but also a bit heavy. However, this makes it sturdy as well. You can cut through almost anything, and there would not be any signs of chipping on it. So if quality is your priority, this surely is the best survival knife on the money for you.
---
Ka-Bar Becker BK-22 Fixed Blade Knife
Sale
Ka-Bar BK-22 Fixed Blade Knife
Used by all branches of miliary and service...
Great for collectors and outdoor services,Tested...
Becker 22 Second Generation "Companion" Fixed...
Another great survival knife for the money is the KA-BAR Becker BK-22 Fixed Blade Knife designed by Ethan Becker. It makes for a fantastic addition to any collection as well as a great companion out in the wild.
The drop point fixed blade is 5.25 inches long and made from 1095 Cro-Van carbon steel. Moreover, the knife comes with a comfortable grip. Overall, it is 10.5 inches long.
The blade design makes it useful for multiple purposes out in the wild- it is especially great for heavy-duty work like batoning and hashing. It is a great durable tool for tasks such as skinning and chopping.
Additionally, the design allows for easy sharpening. Moreover, it is lightweight with a solid and strong handle made from Zytel- a type of glass-reinforced nylon. It also has excellent edge retention and comes with a black leather sheath with a single snap strap.
We consider KA-BAR Becker BK-22 Fixed Blade Knife the best survival knife for the money for those who want to remain ready without packing heavyweight.
---
ESEE 6P-B Survival Knife
ESEE has a reputation for creating high quality and long-lasting knives. It's not surprising that ESEE 6P-B Survival Knife is one of the best survival knives for the money available in the market today.
Its blade is 6.5 inches long and has been created from 1095 Carbon steel. Moreover, there is a powder coating to give it extra protection.
It can take on heavy-duty work with ease and still not show signs of chipping or damage.
The knife itself weighs under a pound. Its longer-than-average drop point makes sharpening reasonably easy. It has a full flat grind, and its sheath is ambidextrous. The length makes dealing with raw meat easy. A full tang makes intensive tasks such as batoning easy.
The ESEE 6P-B handle is made from Micarta, so it is incredibly resilient to adverse weather conditions. It is also lightweight. However, it is also textured; while it makes the grip better, this may be problematic for some.
---
Fallkniven A1 Survival Knife
The Fallkniven A1 Survival Knife is a fantastic product from the Swedish brand Fallkniven who have been making high-end knives and other tools since 1984. Its handle comes with a lanyard loop at the end and maintains a comfortable grip regardless of the weather.
The knife itself is also resilient to all kinds of weather conditions. Another unique characteristic about it is that its leather sheath allows one can even carry the knife upside down.
The blade has a length of 6.2 inches and weighs about 11 ounces. It's been crafted for heavy work but also is very much capable of relatively delicate tasks. It is made from high-end steel called VG-10 steel so you can expect it to last long. In fact, if one takes good care of it, it can last them for life.
Lastly, you get all of it at a reasonable price. When you purchase the Fallkniven A1 Knife, every dollar you spend will be worth it.
---
Perkin Knives Full Tang Damascus Survival Knife
Perkin Knives has been known to provide high-quality custom knives in the UK for years. Their Full Tang Damascus Survival knife is the perfect companion for any trip for a number of reasons.
The knife has a blade length of 6 inches with a total length of 10.5 inches which makes it neither too heavy nor too light. It can effectively carry out more substantial tasks as well as perform finer work. It is the best full-tang knife for its sturdiness and lower chances of damage and breakage.
Damascus is created by mixing two or more types of metals or alloys, and its knives are forged by sandwiching an inner-core carbon with soft steel. This makes such custom fixed blade knives durable and resistant to chipping at the same time.
Finally, Damascus is known to be beautiful, and its timeless knives are considered to be masterpieces of their own. This particular knife creates the perfect combination of design and durability.
Custom knives are generally higher priced than factory-produced knives; however, they are some of the best survival knives for the money since they are made from superior quality steel and better craftsmanship. So one can expect them to remain sharper and last longer.
---
Important Survival Knife Factors
The most crucial factors to judge a survival knife are strength, versatility, and efficiency. You want a knife that can endure the rough work you would require it to perform and be able to use it with maximum ease.
It also must be fit for a range of tasks and of course hassle-free to carry. The convenience of carrying a knife depends solely on you and the outdoor activity you are indulging in.
Hunters need thick knives with heavy blades for skinning animals while hikers need lightweight knives that do not take up much space in the backpack.
For this reason, many tend to opt for custom survival knives as it allows them to control attributes such as steel, blade design, and grip.
Full vs Partial Tang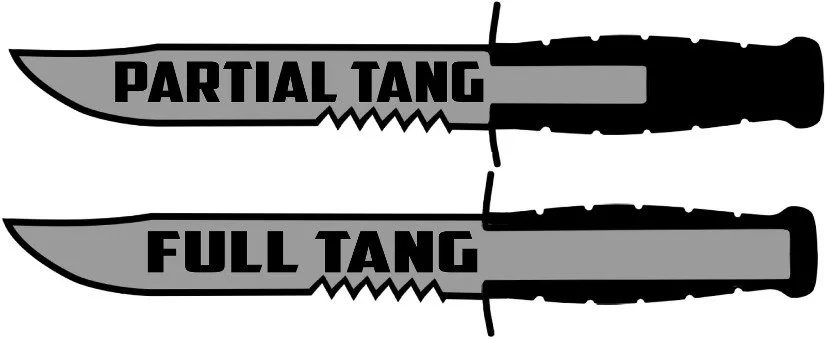 Tangs most often determine the strength and balance of a knife. A partial tang may become loose after a while and is less likely to withstand the pressure of heavy work.
On the other hand, a full tang blade is sturdier. Full tang survival knives are also generally better balanced than their partial tang counterparts. In fact, one can also get full tang knife blanks online.
Fixed vs Folding Knives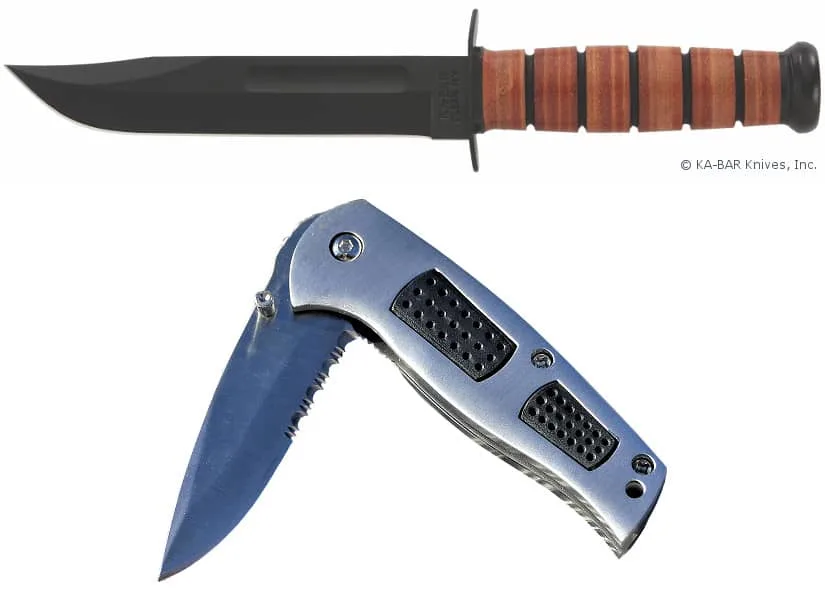 The argument of fixed vs folding knives seems to be endless. However, even ardent folding knife lovers admit that when it comes to survival, the fixed-blade knife tends to fare better, and last longer, than the best tactical folding knife.
However, there are those that swear by their favorite folding knife. I mean, what kid didn't love their first Swiss Army knife… I know I did!
Steel Hardness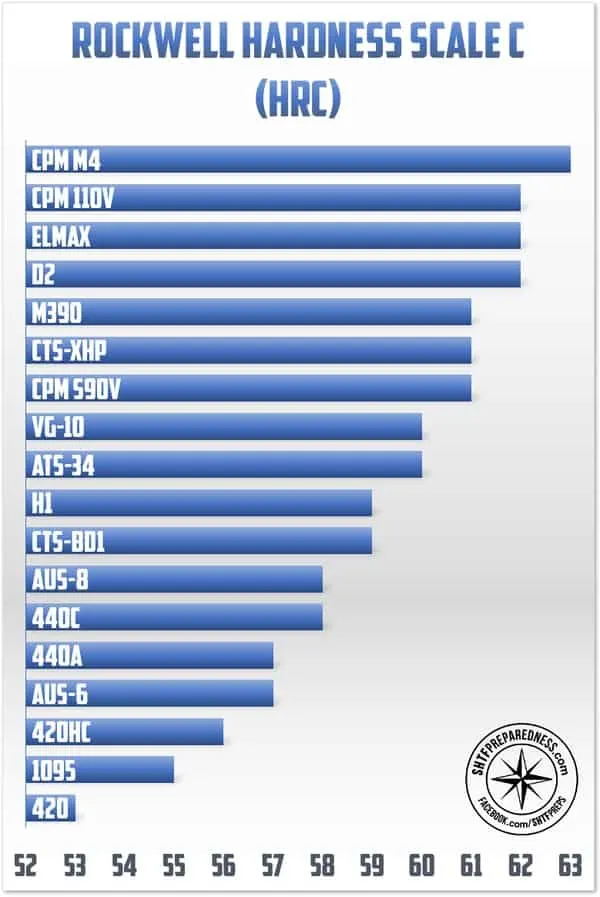 There is a variety of steel and forging processes out there. For a survival knife, it is vital to choose a material that is sturdy and does not chip easily. After all, you don't want your knife to break in the middle of an emergency.
The above chart shows the various types of steel and their respective HRC rating on the Rockwell Hardness Scale C scale. The higher the number on the Rockwell scale, the harder the steel is.
However, there is a trade-off between steel hardness or strength and durability. As a result, steel that is extremely strong may hold an edge longer but is more likely to chip and is much harder to sharpen than softer steel. And vice versa. My advice is to find a happy medium that fits your taste and style.
Types of Knife Blades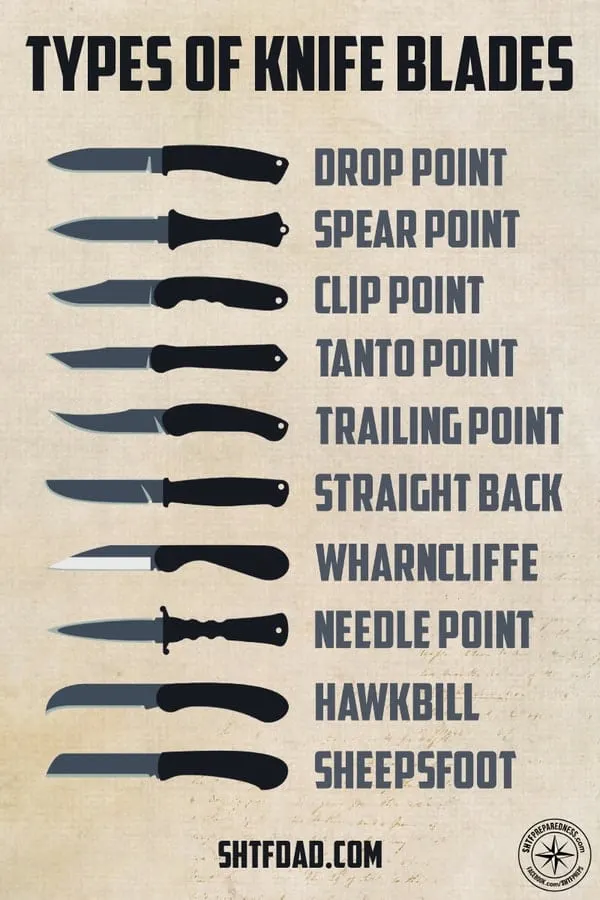 The shape of the blade plays a major role in a knife's efficiency. Choose the wrong blade, and even easy tasks will become difficult.
For survival knives, multiple-purpose blades such as drop point blades may be the best choice.
Handle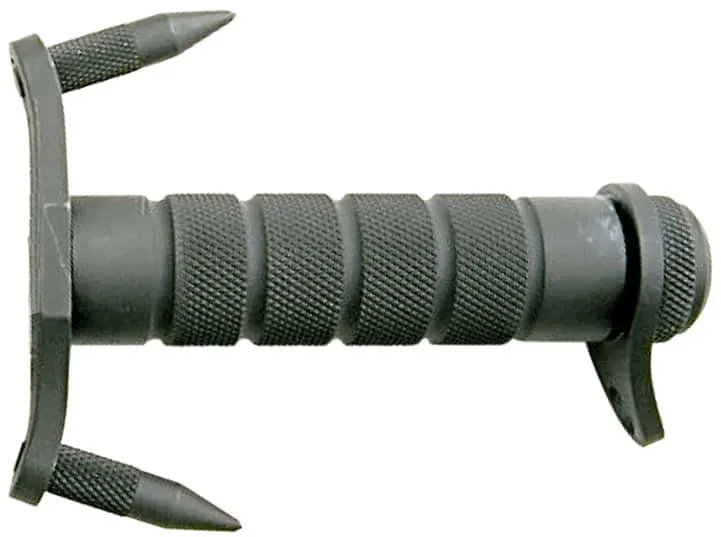 Just like steel, handles vary across knives. You want one with a secure and comfortable grip that doesn't falter even in extreme weather. Needless to say, avoid cheap plastic handles!
Conclusion
Because you cannot carry too many tools into the woods, a survival knife has to be versatile and easy to carry. Each of the survival knives we have mentioned has a long-standing reputation in the market, a variety of applications, and positive testimonials pouring in from across the world.
To sum it up, these knives feature a practical design that becomes an extension of you, have a striking visual appeal, and are a great value for the money.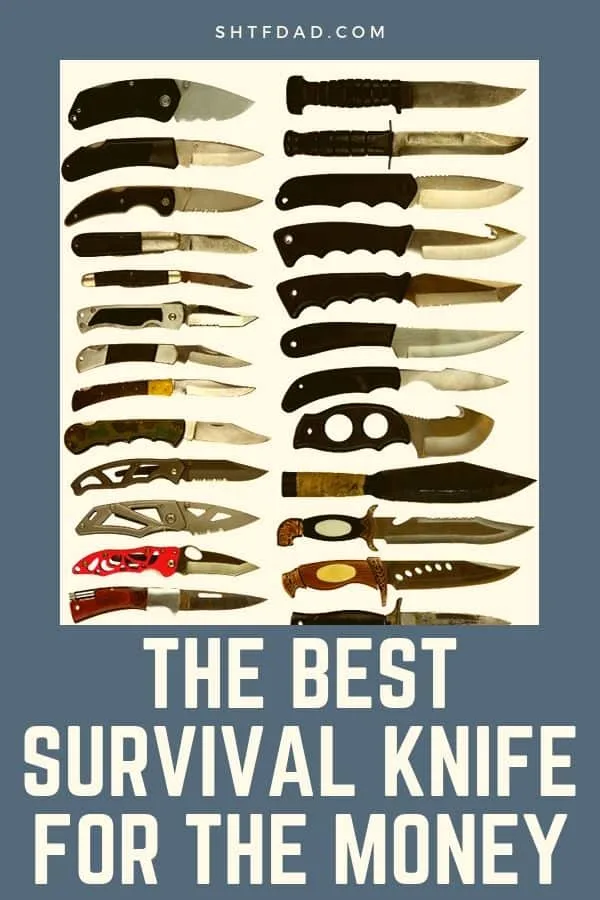 Resources: