SHTFDad may collect a share of sales or other compensation from the links on this page.
Forced family isolation (brought on by COVID-19) has put my kids in front of screens much more than I'd like.
The digital world can be very alluring but I find that when we get out in the woods and light a fire, they forget all about the world behind the screen.
For this reason, I thought I would present you with the ultimate family camping packing list.
We are going to go over the critical pieces that make up a family camping gear list.
We will talk about the items you need to set up a viable camp and children's essentials like sleeping pads, survival kits, and camping chairs.
Sleep System
No camping checklist would be complete without a focus on the necessary sleep systems. A family sleep system is likely to look a bit different than your individual needs.
To keep it simple we have presented two options to choose from:
Inflatable Mattress
Sale
An inflatable mattress is an awesome option that can sleep the whole family and blows up fast. It offers a pretty good night's sleep that can provide familiarity to new and younger campers.
Inflatable mattress
Battery-powered air pump
Backup hand pump
Sheet to cover the bed
Large cover or individual sleeping bags
Inflatable or foam pillows
Kids tend to want to get close if it's cold or dark or both. I prefer a nice king-size blanket. It's more to carry but sleep is important.
Sleep Pads, Bags, and Hammocks
Sale
Coleman North Rim Sleeping Bag
Mummy-style adult sleeping bag for camping in...
Can accommodate most people up to 6 feet 2 inches...
Semi-sculpted hood tightens with a drawstring to...
For seasoned or adventurous families, traditional sleep pads and bags might be the better option. If you can set a tent up properly then you will sleep great on a pad with a warm sleeping bag.
Sleeping bag for all (Buy oversized for Mom and Dad. You might have little visitors in the night.)
Foam or inflatable sleeping pads
Season appropriate sleeping bags
Hammocks with netting
Inflatable or foam pillows
Sleeping hats (if its cold a warm hat can change everything)
Hammock camping with the family is only advisable if they can be set up properly and near one another. Sometimes it can be tough to find the right area for setting hammocks up.
Shelter
Coleman 8-Person Tent for Camping
Spacious 8-person tent has enough room for 3 queen...
WeatherTec system with patented corner welds and...
Extended door awning keeps shoes and gear dry;...
There is nothing that draws the family together and away from screens like the great outdoors. However, you better also have some great indoors to escape the wild or your family will not be happy.
While you might think it exciting to fire up a hot tent, try out some primitive shelter or go all wilderness survival on your family, take my word for it, get a good tent.
Main tent (get a tent that sleeps 4 more than your party. An eight-person tent is the bare minimum for a family of four.)
Pop-up privacy tent
Camping tarp
Cordage
Camping chairs
Hydration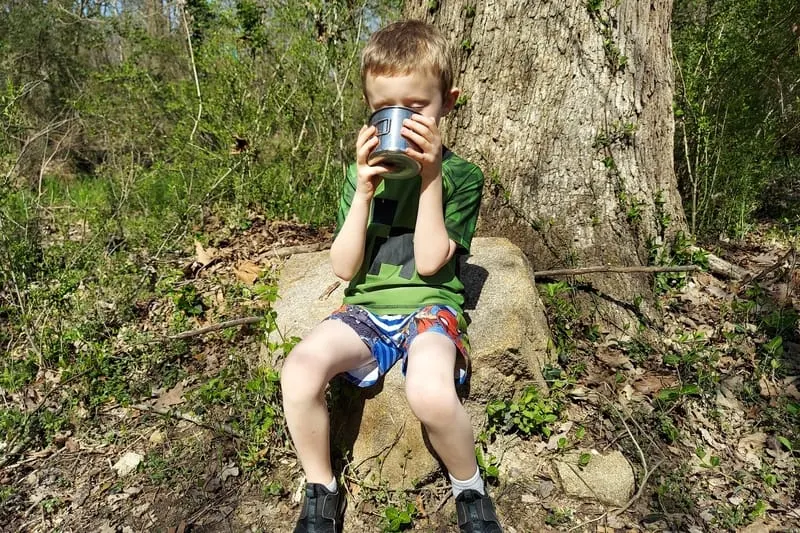 Water is always going to be your greatest burden when you are camping. That is because it is so heavy to carry in. 
Unless you are car camping there will be the need to either carry or source it from the wild. Not to mention knowing different water purification methods to ensure safe drinking water.
Your family members can all carry something that will help keep them hydrated.
Water Containers
Water bladders
Steel water bottles
Canteens
Water Filters and Purification
Personal water filters
Filter water bottles
Water purification tablets
Lighting
Princeton Tec Remix LED Headlamp
Maxbright LED - The highest quality LED available,...
Ultrabright LED - The Ultrabright LED is bright...
Multiple Modes - Multiple settings gives you the...
Family camping is going to require some lighting. Each child should have their own flashlight.
I prefer headlamps for my kids so they can see in the dark and have the use of both hands. It makes late-night potty much easier to manage.
Headlamps for each member
A quality lantern or two
Powerful 500+ lumen flashlight
Chem lights
Pop up solar light
Camping Food & Snacks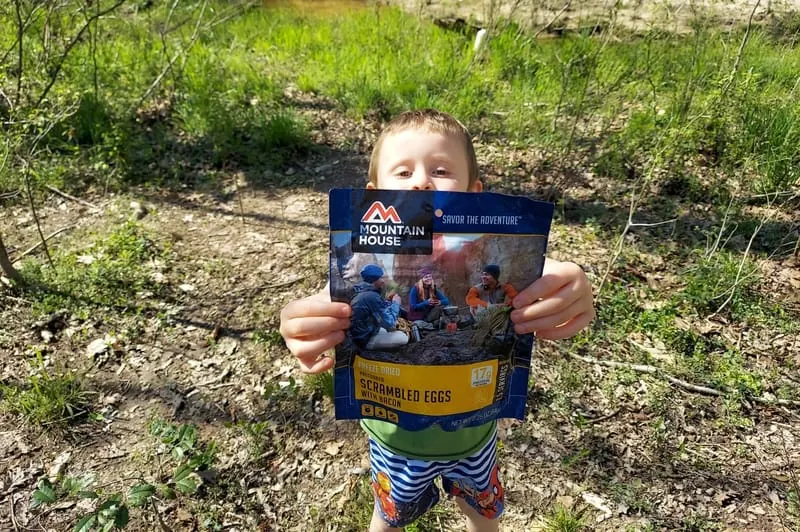 Don't forget to pack some great snacks. You will do your share of camp cooking but having snacks that are ready to eat is a big deal. There are tons of camping snack options that are absolutely delicious, portable, and highly nutritious.
Oh, and if you want to bring some things that are not so nutritious that's OK, too!
Granola
Jerky
Hand Fruits
Meal Bars
Peanut M&Ms
Rice Krispie Treats
Camp Kitchen & Mess Kits
UCO 4-Piece Camping Mess Kit
4-Piece Camping Cookware Set: Made for...
Compact: Camping plate and bowl form an airtight...
3-In-1 Spork: The ultimate piece of camping...
No outdoor adventure is complete without a great meal or two. We used to be relegated to freeze-dried foods. But now it's common to see people cooking steaks over the open fire and even drinking wine. Life can be good out there in the camping kitchen.
Don't forget to bring a mess kit for each family member to assure they all can eat your campfire creations.
Kitchen and Eating
UCO 4 Piece Mess Kits (These run about $15 each and are great for the whole family to carry)
Folding camping table
2 Burner Coleman stove
Backup fuel
Cast iron skillet
Cast iron dutch oven
Coffee
AeroPress Coffee Maker
Plenty of your favorite coffee
Camping kettle
Titanium or steel cups with handles
Cleaning
Towels for cleaning and touching hot pots and pans
Compressed wet wipes
Collapsible camp trash can
Trash bags
Camp Tools
Be sure that you include some tools on your camping packing list. There are some essentials that every campsite should have. While these may not be tools for small hands, you still want to include them.
Woodsman axe
Folding saw
KA-BAR USMC fixed blade knife
Buck 110 Folding Hunter knife
Folding shovel
Camping Packing List: Children's Essentials
When you decide to go camping with kids there are several essentials that you need to have on hand. Any strong camping packing list is going to have personal items as well as camping items. These will give younger kids comfort and older kids space.
From newborn to 14 and older this is our list of camping with children essentials.
Sale
Hurley Large Backpack
Durable woven exterior ranging from solid to a a...
One large front zip pocket for storing items like...
One side bottle pouch for easy and quick access.
0-5 years old
There is a lot that changes in children between 0-5 years old. If you are dealing with children under 2 years old then you basically need to have your entire setup with you for dealing with the needs of a newborn or toddler. This could be bottles, diapers, pacifiers, creams, and lotions.
My kids would fall asleep soundly with a pacifier but without it was a nightmare for the whole family.
Comfort items are essential to small kids. My sons were always full of confidence, even at a young age, when we went camping. But when the sounds of the night would come and the only light was our campfire, things would change.
5-10 years old
This is a fun age bracket where your kids can really start to take ownership of their camping gear. Bring some entertainment for the morning and evening hours. This age range does not want to take in the sights with you!
Camping Tools
Compass
Binoculars
Emergency tent
Sunglasses
Two-way radio
Whistle
Entertainment
Card games
Boardgames
Marshmallows for roasting
10-14
This can be an awesome age where they truly begin to share the burden of carrying gear. They also have a pack that is capable of getting things done. They should have everything needed to make a simple camp on their own.
Your 10-14 year old should already have many skills, but you should pull them close when it comes time to set up camp and get everything in its place. Processing firewood and using axes are all things that kids this age can do with supervision.
Emergency tent
Hatchet
Fire starter kit
Compass and map
Water filter
Fixed blade knife
Two-way radio
Whistle
14-and up
SPACE! That is the key essential for camping with this age range. Be sure they have their own tent they can escape to. This is not just for them!
Emergency tent
Pocket survival kit
Pocket first aid kit
Fire starter kit (put them in charge of fire!)
Two-way radio
Whistle
Don't Forget About Emergency Preparedness
In all things we do, we must be prepared for any kind of emergency. People get injured and lost in the woods all the time. Injuries using tools people are unfamiliar with can be common, too.
Here are some recommendations for items you should include in your camping packing list for emergency preparedness:
Robust family first aid kit
Wilderness survival manual
Backup cell phone
Self-defense weapon
One of the most important safety steps you can heed is to let someone know where your family will be and when they will be back. This can result in getting help quickly if you need it!
Prepare Your Family Further
The camping packing list is essential for a great family camping trip. Don't forget to consider the personalities and camping gear that will benefit each age range you are bringing along. It's a good idea to use this as practice for building a family bug out bag.
A quality camping trip can do magical things for a family during these tough times. It can give overworked Dads (and Moms) a look at what truly matters. It can pull children away from video games and anxious spouses can get a change of scenery.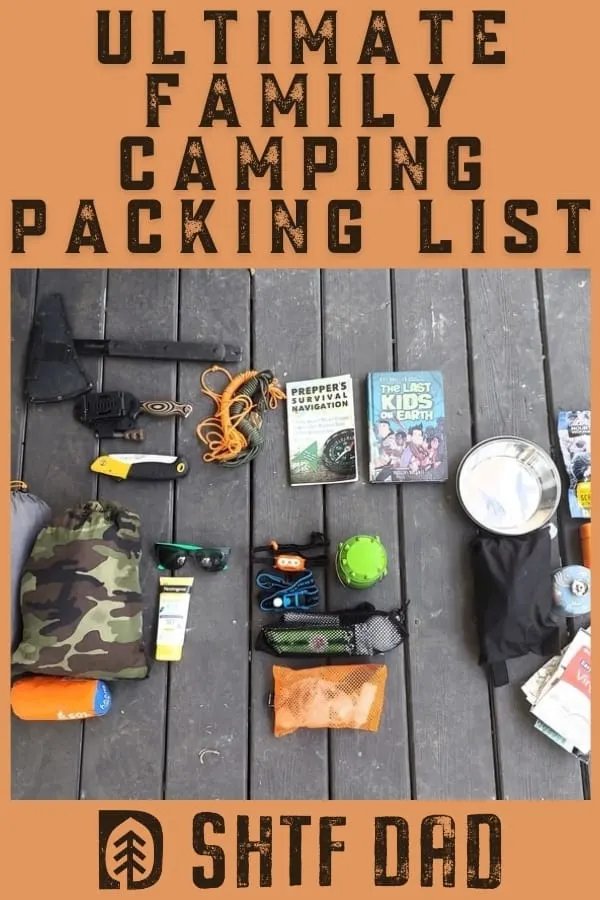 Resources: