SHTFDad may collect a share of sales or other compensation from the links on this page.
Do you know how to build a Family Bug Out Bag? First, build a bag for each member of the family that is old enough to carry one.
The bug-out bag gives you the option to leave your home for safety at a moment's notice. For example, you take with you survival tools, survival gear, and other necessities in an emergency situation.
To sum it up these things can be spread around amongst the family to make carrying everything you need much less of a burden.
Choose a Method for Bug Out Bag Preparation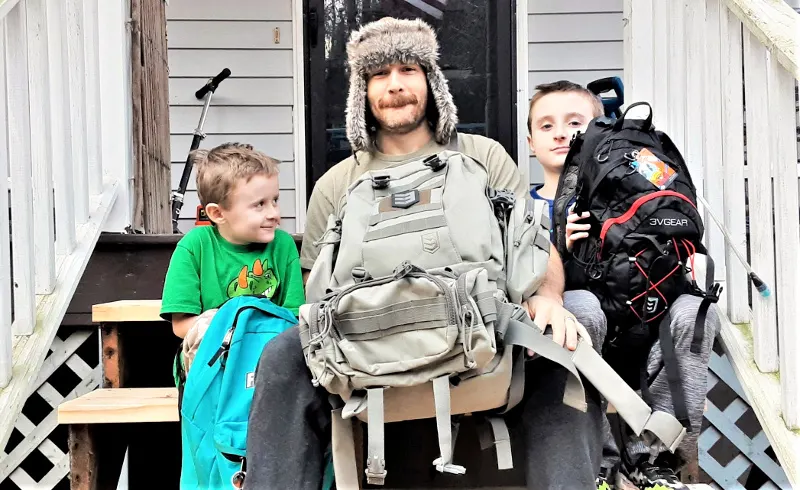 Family bug-out bags vary widely depending on a number of things. You need to understand your bug-out process and your family before building out the best bug-out bags you can.
Here are some considerations you should make when it comes to isolating the best method to carry your bug out bag essentials.
Bug Out Considerations
Age of family members
Mobility and physical shape of family members
Distance to your bug out location
Methods of travel to your bug out location
Survival gear or caches stored along the way
Comfort items and resources at your bug out location
You must consider all of these things when deciding what kind of method you will use to pack family bug out bags. All families are different and you are building unique bags to meet the needs of your family and your bug out plan.
There are a few ways that bug out bags can be packed for family members. From 5 years old to 65, everyone in your home can help. It's up to you and yours to figure out who carries what and how they can be most effective.
Individual Family Bug Out Bag
An individual bug out bag is one that is built to meet the needs of the individual that is carrying it. In other words, you are putting together a bag that contains all the things a person would need during a survival situation and bug out or evacuation.
This is great for fit adults or older children.
Partial Family Bug Out Bag
These bags are built for those who are too small or out of shape to carry an individual bug out bag. This bag could include a sleep system and change of clothes but would omit some of the heavier survival gear.
A partial bag is great for adults with injuries or limitations on strength and fitness. Also, younger healthy teens have the energy to help.
Resource Bug Out Bags
Kids can do a lot to help families bug out. They can carry bags that focus on specific resources like a first aid kit, toilet paper, or even just carry a food bag.
These bags are perfect for kids ages 6-11.
Comfort Only Bug Out Bags
If nothing else, a family member can carry a simple comfort only bug out bag. This can include comfort items, light snacks, and other lightweight items. You might even be able to include a small water bladder.
These are perfect for small children.
Backpack Recommendations: What Type of Bag to Bring?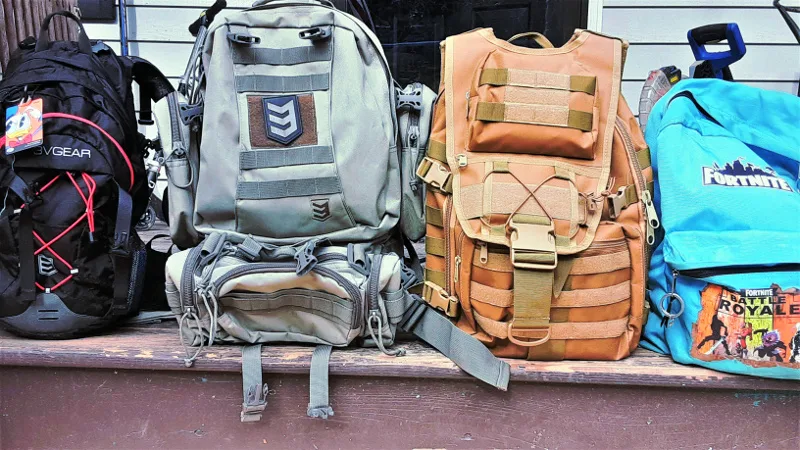 There are a variety of backpacks out there that can be used to build out family bug-out bags.
Most importantly, choosing the right bag can affect how much your family can carry and how enthusiastic they are about this undertaking. Your 12-year-old doesn't want his old Lego bookbag to be his bug-out bag. Neither should you.
Best Bag for Adults
Condor 3 Day Assault Pack
Large load cargo capacity compartment
Designed for easy access and organization (7...
Hydration-pack compatible (2L or 3L bladder
The Condor 3-Day Assault Pack is an outstanding bug-out bag. This might be my favorite bug out bag on the market.
I have traveled with multiple children across many states with just this bag. It has more space than any one person would need for a typical bug-out.
Best Bag for Teenagers
3VGear offers up a tremendous bag called the Paratus Three Day Operator's Pack which is an assault-style pack that can carry so much of your needs. It looks very similar to the Condor but you can actually remove the side pockets and the pack that sits underneath your main compartment.
The Paratus is a highly affordable and probably the best bag of its size for the quality that you are getting.
Everything your teen will pack in this bag it can take. It is even outfitted for a water bladder, too!
Best Bag for Preteens
The Surge by 3Vgear is a great bag for preteens. It is not a big bag but with a lightweight sleep system, like a hammock, it can do a great job as a backpack. It has significantly less space than the larger bags that we mentioned.
However, the Surge features a bunch of different compartments that are open to a number of uses. Extra clothes can be a problem if you are going on a multi-day trip.
This bag is as light as air.
Best Bag for Small Children
Osprey Daylite Daypack
Large panel loading main compartment provides...
Dual stretch mesh side pockets provide additional...
The multi-function interior sleeve can be used for...
The Osprey Daylight for kids is a great pack that can be used to carry water, food, clothing, and comfort items. This bag also features a whistle which is one of the most important things you can put on your child on a long hike.
Drag handle, adjustable straps, and a chest strap to keep them as comfortable as possible. The Osprey is the kind of bag you want for your children.
Best Bag for the Elderly
Vertx Tourist Sling Pack
MINI GO-BAG: The Tourist Sling Pack tactical bag...
CARRIES THE ESSENTIALS YOU NEED: This tactical...
PERFECT FOR TACTICAL GEAR: Carry your essentials...
Chances are your elderly family members are not going to play a large part in the hauling of weight. A great bag for the elderly to carry is a messenger bag. There are some great bags of this style on the market. Vertx, a quality bag maker, has a great product called the Tourist Sling Bag.
This sling bag has a number of compartments and even a place to slip that concealed carry weapon if deemed necessary.
Essential Items by Child Age Range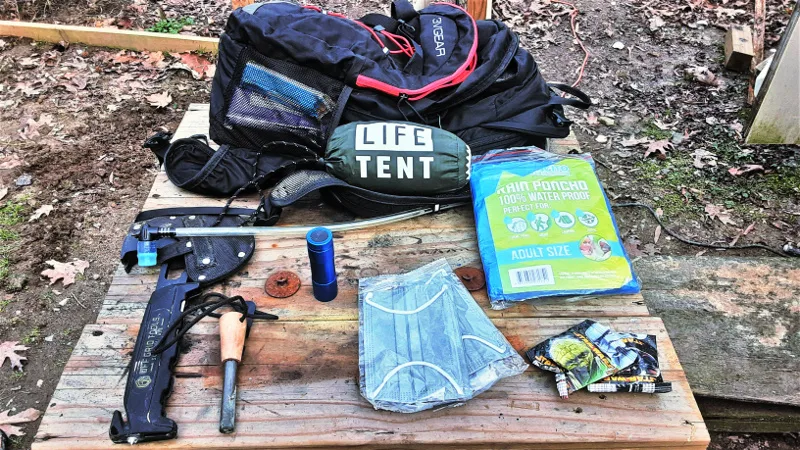 Let's have a look at some essentials for each age group. These items are going to make the bug-out easier on you and your children.
Bug Out Bags for Infants and Toddlers
Your infant and young toddlers need emergency kits that they will obviously not be able to carry themselves. You should have them in your bag or a MOLLE attachment to your bag:
Inserts
Wipes
Diaper Rash Cream
Teething Medicine
Sippy Cups
Snacks
Powdered Formula
Lotion
Infant Tylenol
Stuffed Animals
Comfort Items
Pacifiers
Rain Protection
Hat
Family Identification
Bug Out Bags for Children
Snacks
Water Bottle
Poncho
Extra Socks
Face Mask
Eye Protection
Mess Kit
Toys
Games
Books
Two Way Radio
Whistle (if they get lost a whistle is the easiest way for you to find them)
Kid Safe Survival Gear (compass, multi-tool)
Small Boo-Boo Kit
Family Identification
Prepaid Phone
Device
Charger
Bug Out Bags for Teenagers
Depending on your teen's age range they could be carrying a bag that is very similar to your own. We will give some recommendations for younger teens.
Snacks
Water Bottle
Poncho
Extra Socks
Face Mask
Eye Protection
Mess Kit
Games
Books
Two Way Radio
Full Survival Kit (Fire, Knife, Cordage, Cover, Cotton Bandana, Flashlight)
Self Defense (pepper spray, baton)
Small Boo-Boo Kit (just don't call it a boo-boo kit in front of them!)
Family Identification
Prepaid Phone
Device
Charger
Duplicates to Avoid in Family Bug Out Bags
Two is one and one is none. However, there are items you only need one of when building a family bug-out bag system. Here are a few items that fit that bill:
Camp Stove
A camping stove is essential if you have to eat at your bug-out location. However, carrying multiple stoves is a waste of time and effort.
Lixada Portable Backpacking Stove
【BUILT TOUGH】: Our wood stove is made of...
【SMART DESIGN】: While the wide opening mouth...
【UNLIMITED FUEL SOURCES】: Any dry woods,...
Camp Cook Wear
One person in your family should carry the camp cookware. There is no need for multiple people to carry cast iron or lightweight titanium cookware.
Instead, you could outfit everyone with a steel water bottle, because this doubles as a vessel to carry water and to cook or warm food in.
Sale
Family Water Filter
Water is heavy. As a result, a water filter is essential. One high-quality hand pump or drip water filter is enough to fill everyone's bottles and bladders quickly. 
Small water filters could be carried by everyone. However, one large filter is something you need not duplicate in other bags.
Sale
LifeStraw Personal Water Filter
Removes Bacteria & Parasites: The Microfiltration...
Removes Microplastics: Removes The Smallest...
Rigorous Testing: All Claims Are Verified With...
Large First Aid Kit
One large, well outfitted, first aid kit is a necessity whenever your family is out of the home. For the family bug-out bag, the preparation is no different.
For instance, one such kit is enough if you build that kit properly. Therefore, don't take on the burden of carrying multiple large kits. A small kit in each bag or a boo-boo kit is an addition worth considering.
Heavy Tools, Saws, Axes, Bolt Cutters, Crowbars
These heavy access tools are very important to the urban survivor and the urban family bug-out bag.
Therefore, there are also great tools for processing wood. They are hard to carry and should be chosen wisely and not duplicated.
Storing your Family Bug Out Bag
Nearly as important as building the family bug-out bags is how you store them. The building of bug-out bags is a very exciting undertaking. Firstly, buying all the items and fitting everyone is much like an at-home adventure.
Those same bags will eventually wind up in some kind of storage location in the home. Furthermore, at home, these bags are going to sit until the time comes when a family decides it's time to bug out. These bags will likely sit around for a while.
Quality Check
Most importantly, a family bug-out bag needs a QA or quality check. In addition, review the contents of your bag on a regular basis. Many preppers are guilty of building a bug-out bag and hanging it in the garage for a full year without ever touching it.
Your family bug out bag must be checked at least once per quarter to be sure it is still a solution for you. They should also be stored in a climate-controlled area off the ground, to avoid pests.
Complete Family Bug Out Bag Family Checklist
Here is a complete family bug out bag checklist.
Water
Clothing and Protection
Eye Protection
Extra Socks
Gloves(for all)
Shelter
Family Tent
Sleeping Bags or Blow Up Mattress
Tarp for Under Tent
Hygiene
Lotion
Bug Spray
Sun Block
Wet Wipes
Hand Sanitizer
Feminine Hygiene
Toilet Paper (take off roll and folded)
Power and Electronics
Prepaid Cell Phones
Cell Phones
iPad
Power Banks
Solar Array Charger
Two Way Radios
Food
Butane
Mess Kits (for each)
Cookware
Dehydrated Meals
Bars
Jerky
Trail Mix
Tools
Woodsman's Axe
Saw
Bolt Cutters
Pry Bar
First Aid
Family Sized First Aid Kit (Professional Built or Home Designed)
Light
Miscellaneous
Cash
Duct Tape
Trash Bags
Binoculars
Condoms
Resealable Bags
Sewing Kit
Fishing Kit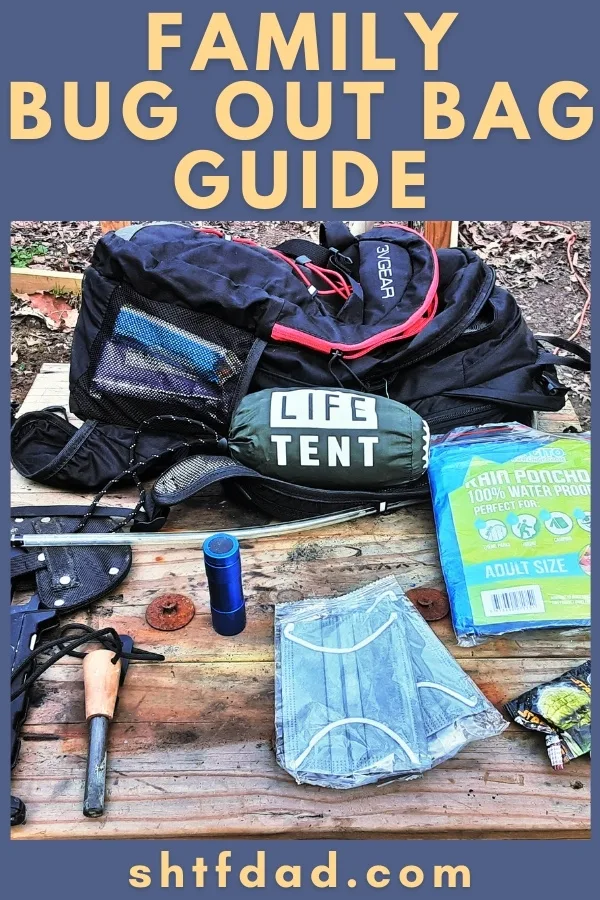 Resources: