SHTFDad may collect a share of sales or other compensation from the links on this page.
As a dad, I've thought about how diapering would look if SHTF.
Since disposable diapers will be one of the first things to fly off the shelves, what does one do when they're all gone?
Cloth diapering is the obvious solution.
Are you aware of the benefits of cloth diapering?
Do you know how to do it?  
Would like to know some of my favorite products available for it?
Cloth Diapering Benefits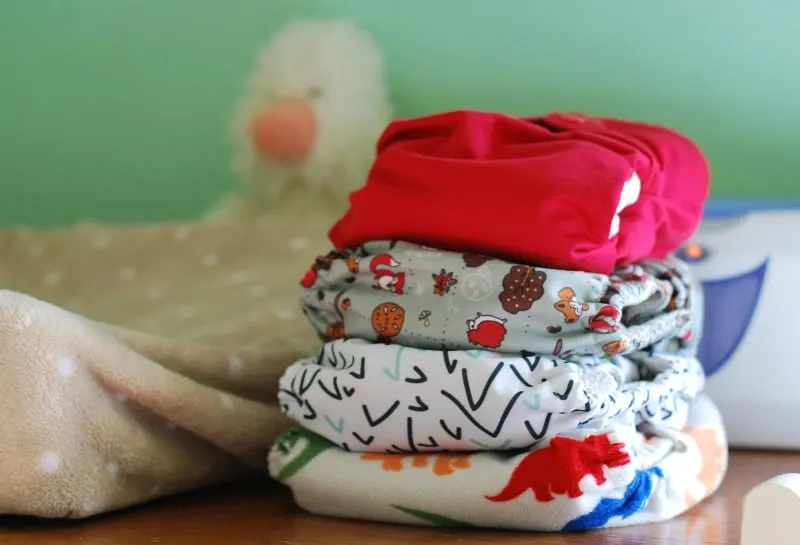 1. Cloth diapers are cheaper than disposable ones
Cloth diapering has a bevy of benefits. First of all, it is a frugal way to diaper your kids. 
With many of the cloth diapers available today, it is possible to make the initial investment for the first child and continue to use those cloth diapers for subsequent children. Lots of these diapers last for years and can save your family thousands of dollars in the long run.
The average baby uses 2,788 diapers in its first year.  If you multiply that number by the average cost of twenty cents per diaper, your family could be spending $557.60 on the first year of diapers alone.
Now, realize that most babies don't potty train by their first birthday, so take the very conservative estimate from wiki.answers.com that an average baby uses 3,796 in its lifetime.
Again, estimating an average of twenty cents per diaper, that cost figures to $759.20.  My family got ours from amazon.com, and the cost of twenty-four of our preferred cloth diapers on that site equals $360.00.
That's enough diapers to allow us to wash every other day. And as I said before, that $360.00 investment saves money not only for one child but possibly for several others.
2. Cloth diapers offer security
Secondly, cloth diapering offers the security of knowing that there will always be diapers on hand for your family. 
That means no late-night emergency runs to the store or worrying about what to do if disposable diapers aren't available or are too expensive.
3. Cloth diapers are more earth-friendly
Third, cloth diapers are a greener way to diaper your family. As mentioned before, an average baby uses thousands of diapers in its lifetime and keeping disposable diapers out of the landfill is definitely beneficial to everybody.
Also, consider the decreased use of resources used to manufacture, ship, and distribute those disposable diapers. Cloth diapers use far fewer resources.
4. Cloth diapers are more natural
Fourth, cloth diapers keep harmful chemicals away from your baby's sensitive, delicate skin.
Regular disposable diapers are loaded with chemicals to help increase absorbency whereas cloth diapers have none. In addition, many cloth diaper manufacturers suggest avoiding diaper rash ointment on your baby's bottom because they can decrease a diaper's absorbency.
By not using diaper ointment, you are keeping other chemicals away from your baby and keeping more money in your pocket.
5. Cloth diapering causes less diaper rash
Babies that wear cloth diapers suffer fewer diaper rashes than those who wear disposable diapers.  Most likely this is due to the decreased exposure to chemicals.
But since babies wearing cloth diapers have diaper changes more frequently, that can help too.
6. Babies wearing cloth diapers potty train easier
Foryee Cute Frog Potty Training
Perfect for Toilet Training for Boys between the...
Bright Colored Urinal Froggy Shape is Perfect for...
Adjustable Height.RemovableBowl Insert for Easy to...
Cloth diapers don't absorb liquid as well as the disposable ones. As a result, babies in cloth diapers better feel when they are wet are dirty. While you might have a few messes in the process, they'll be ready for the potty much sooner.
How to Choose Cloth Diaper
Choosing Your Diapers
The first step in choosing your cloth diapers is determining your budget.  Since different styles of diapers cost different amounts, your budget definitely plays a significant role in this process.
The next step is considering which style (or styles) of cloth diapers work best for your family.  Here are some explanations of different styles:
Choosing Your Styles
All-In-Ones – All-In-One diapers consist of an inner cloth absorbent layer, or layers, sewn directly to an outer waterproof shell.  These are nice because they most closely resemble the style of disposable diapers and they have the convenience of not needing to be stuffed with liners.  However, they also are fitted diapers which means they'd have to be purchased in each size for your child.
All-In-Twos –  These consist of a waterproof outer shell that has absorbent liners that can snap into them.  These are nice because only several shells are needed, just be sure to purchase the necessary amount of liners.  These are definitely convenient but they can also be costly.
Prefolds – These are made out of a piece of cloth that is fastened around the baby and then paired with a plastic diaper cover.  They are one of the least expensive ways to go, but not necessarily the most convenient.
Pocket diapers – These are my personal favorite and consist of a polyurethane laminate (PUL) outer shell that keeps the urine from leaking from out the diapers and a soft cloth inside that has a pocket into which a cloth liner (or two) is placed to absorb fluids.  Pocket diapers can be purchased as either one specific size or adjustable to grow with the baby.
Fitted diapers – These are shaped much like a disposable diaper but are made only of cloth and therefore need to be paired with a plastic cover.  Just remember, though, the plastic covers don't allow air flow to baby's skin.
Types
ALVABABY Baby Cloth Diapers
FASION & STYLISH -Why not get these reusable,...
HIGH QUALITY, ADJUSTABLE, REUSABLE & WATERPROOF...
SAVE MONEY & ECO-FRIENDLY-Our reusable cloth...
My family has used a variety of cloth diaper brands including:
Fuzzibunz
bumGenius
Oh Katy
Totsbots
Rumparooz
Bumware
Swaddlebees
Blueberries
Our favorites have been the Fuzzibunz Elite diapers closely followed by the Rumparooz.
How To Use Cloth Diapers
Once you've purchased your cloth diapers and, if needed, adjusted them to fit your baby, you may wonder what to do about them once they're wet or dirty.
If they're wet, just remove the liners and toss them into your diaper pail along with the covers (if appropriate).
However, if the diapers are soiled, spray them with a spray attached to your toilet to remove the solid waste and then put in the diaper pail.
As long as the baby is breastfeeding exclusively the poop may go in your washer to be removed with the initial rinse cycle. However, the idea grossed my family out so we just used the sprayer to remove the breast-milk poop as if it were regular solid waste.
How to Launder Cloth Diapers
This section will be based upon my own personal experience using pocket and all-in-one cloth diapers as well as cleaning guidelines recommended on the Fuzzibunz website.  Both Fuzzibunz and I recommend laundering the diapers every other day.
When I wash my diapers, I stick them in my HE front-loading washing machine with a towel and the soiled bag they were in and then run a rinse cycle with no spin. I add the towel and avoid the spin because I want the washer to sense as much weight as possible for my next cycle.
If your washer isn't HE, then you can omit the towel and add the spin cycle if desired.
I next run a wash cycle using hot water, a vinegar pre-rinse, and Rockin' Green diaper detergent. After that wash cycle finishes, I then run another cold water wash cycle without detergent.
Finally, I hang my diapers and inserts on a drying rack and let them air dry.
Fuzzibunz says you can put your diapers and liners through the dryer on low heat but I opt to air dry them to prolong their life and use less electricity.  Hanging them to dry in the sun naturally bleaches them and kills odors.
One additional laundering tip from my experience: if your HE washer doesn't use powdered detergent (like Rockin' Green) but you want to use it anyhow, mix some of your desired detergent with water in an old laundry soap container and use as a liquid detergent.
Best detergents for cloth diapers
The Fuzzibunz websites recommend the following detergents: Fuzzibunz (of course), Rockin' Green, Allens Naturally, Ecover, and 7th Generation.
They say you can also use Tide Free and Arm and Hammer free although they aren't as preferable as the aforementioned brands; if you use these brands, they recommend using just a quarter of the amount recommended by the manufacturer.
They also forewarn against using store brands because they may contain wax that can build up on diapers.  They are against using fabric softeners and diaper creams for the same reason.
Note: if your baby has a diaper rash and you use cloth diapers, treat it with a paste made of cornstarch and zinc oxide.
How to Strip Cloth Diapers
Occasional "stripping" of cloth diapers is recommended to remove detergent and/or oil build-up. This can be done several ways:
If you want to remove detergent, simply wash the diapers in hot water until suds are no longer created.
to remove oils, soak the diapers in hot water mixed with blue Dawn dish detergent; this is the method I frequently use.
occasionally you could strip diapers by soaking them in hot water with Rockin' Green's Funk Rock (an ammonia killer) and occasionally, vinegar.  I usually let them soak overnight in a big plastic storage tub, then I launder them (without detergent), and hang them to dry.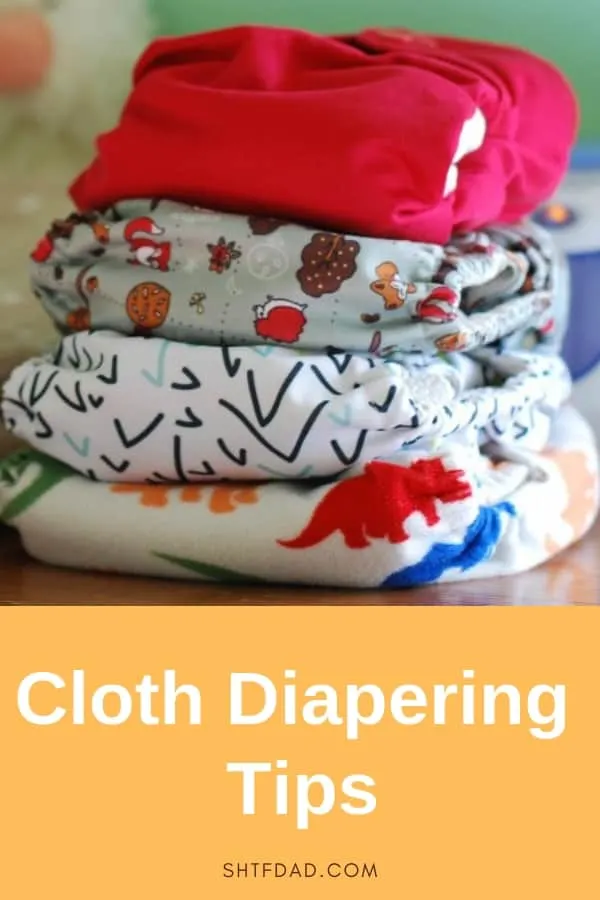 ---
Resources: