SHTFDad may collect a share of sales or other compensation from the links on this page.
If you're committed to providing safety for your family in an extreme situation, you'll need to look up underground bunkers for sale.
You might want an underground shelter to complete your prepping plans, or because you believe an imminent event will require you to head underground.
With that in mind, let's look at the best companies that manufacture underground refuges for preppers.
In my research, I found several manufacturers that provide bunker components, as well as move-in ready luxury units. As a result, this will provide you with a good starting point to understand what is available out there.
I have attempted to be inclusive and as broad-reaching as possible in the shelters presented. However, each of the manufacturers below will have additional shelters and options that may better fit your needs.
Low-Cost Underground Bunkers for Sale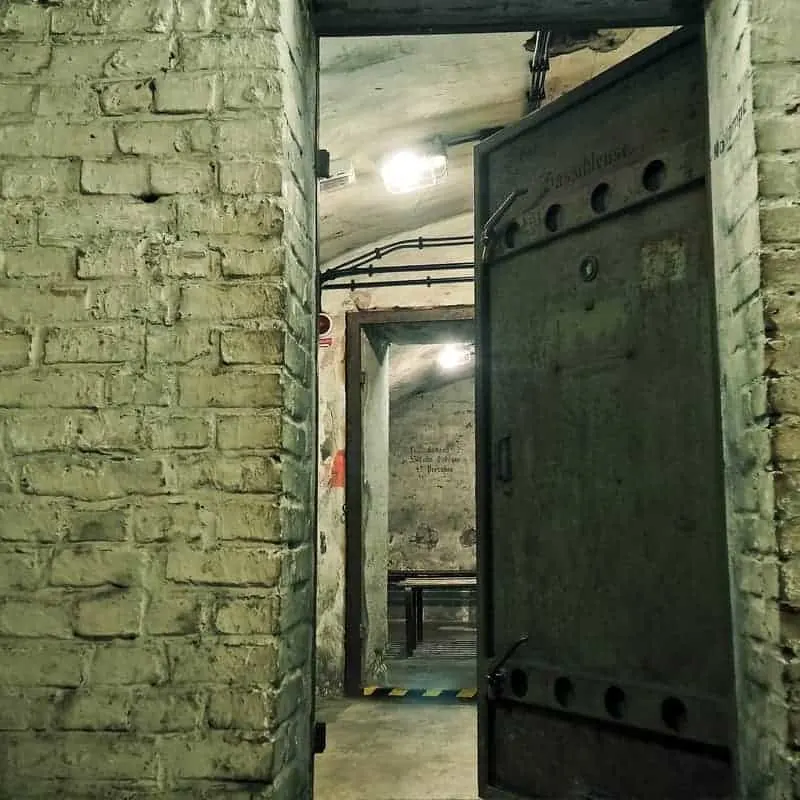 Let's start with several low-cost options. These are small, self-contained systems and include storm shelters, bomb shelters, and fallout shelters for sale.
The primary goal of this category of the bunker is to provide a refuge from bad weather (read tornado). In these bomb and storm shelters for sale, you and your loved ones can hunker down for a few hours to escape an immediate threat.
Consequently, at this price point, comfort and space for food and water will be at a minimum. In most cases, these low-cost shelters will be delivered as a complete unit. That means that unless you are in a remote area, delivery and installation will be visible to others.
Rising S Company
The Rising S Company sells "residential" bunkers for a wide range of uses. Their most inexpensive models include 10' x 10' of floor space and are $39,500.
These models include bench seating, LED lighting, fresh air vents, a TV with a DVD player, and a restroom. You can upgrade these with beds, water storage, usage (toilet, sink, etc.) security upgrades, and electric generators.
The Rising S Company has other "residential" models up to 10' x 30' to best fit your needs of space, storage, and family/team members to accommodate.
American Safe Room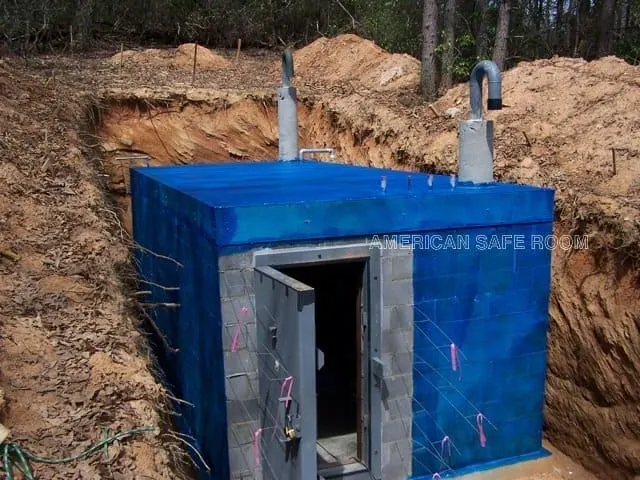 American Safe Room also provides simple bomb/fallout shelters for sale for your most basic needs. Their bomb shelters for sale include several series: 
(8′-8″ wide x 20′ long)  – $18,500, plus shipping – Series 100

(10′ wide x 20′ long) – $20,500, plus shipping – Series 200
12′ wide x 20′ long) – $22,500, plus shipping – Series 300
 (14′ wide x 20′ long) – $24,500, plus shipping – Series 400
This series of bunker ships with the critical structural components (all supporting beams, doors, hatches). You'll be responsible for laying up the concrete blocks and building the walls by pouring concrete.
The use of concrete will help you reduce the cost of the shelter dramatically. This cost-saving measure allows this series to be shipped with upgraded air filtration systems (Safe Cell brand 60 CFM NBC filtration system). This is a feature not included in most storm shelters for sale in this price range.
While these bunkers require a considerable amount of work to install, (either by you or by a hired professional), you'll save money. You'll also be able to add to the security of the operation.
Atlas Survival Shelters
Atlas Survival Shelters is the stalwart of the doomsday bunkers for sale world. Their 10' x 13' culvert system (10' diameter culvert) is regularly priced at $49,999 (at the time of this writing this system is discounted to $34,999).
This unit comes with:
a mudroom\entry room (an additional 10' over the 13' of living space)
gas-tight door
overpressure valve
underfloor storage
standard with an air filtration system
Atlas Survival Shelters offers a series of culvert shelters from this 13' length up to 42'. As the length increases, the area (and the ability to store more bunker supplies or more people) increases. The largest shelters include additional points of egress (e.g. escape tunnel) as part of their increased cost.
Also available from Atlas Survival Shelters is a series of non-culvert storm shelters called the "Nado Series." These underground shelters are between $18,999 (for an 8' x 8' shelter) and $41,999 ( for an 8' x 20' shelter).
Designed to be installed either stand-alone or under an existing structure, the Nado shelters can be accessed through an AR500 steel hatch.
Each shelter comes with an NBC air filtration system and can optionally include a toilet, bunk beds, gun racks, etc. Installed 14' underground, these shelters provide a stable 60 F, depending on your region of the country.
Vivos Underground Survival Shelters For Sale
Terra Vivos is a survival community billed as "The Backup Plan For Humanity." This repurposed military ammo depot offers 2,200 square feet of floor space for $35,000. And if you have extra funds, you can also purchase or rent additional finished space.
Their inaugural location (they have several) is located in the central United States, and it includes 575 bunkers spread across 18 square miles.
Moderate Cost Underground Bunkers for Sale
These will cost between $100,000 and $500,000 dollars and primarily benefit the owner with additional living space. Many of the above manufacturers have shelters in this price range.
Rising S Company
The Rising S Company Silver Leaf series starts at $122,500 for 500 square foot shelter. They offer progressively larger models up to the 1600 square foot Xtreme series.
The Silver Leaf series includes multiple rooms including a dedicated kitchen, master bedroom, second bedroom, and a bathroom with a shower.
The water system includes a water inlet and filter, an on-demand hot water system (hot shower anyone?), a greywater management system (tank and pump), and a composting toilet.
These shelters also come standard with an NBC air filter system and a solar system with a battery bank.
The basic Xtreme series is a combination of multiple independent shelters configured as connected "rooms" in your bunker. With the increased size comes multiple configuration options.
One such configuration includes multiple bedrooms and bathrooms and dedicated rooms for storage, workshops, power generation, and hidden safe rooms or vaults.
Ultimate Bunker
Also offering moderate-cost bunkers, Ultimate Bunker manufactures bunker systems with ¼ epoxy coal tar-coated steel skin.
Their 10' x 40' bunker (starting at $200,000) includes access via a security hatch and stairs as well as an escape tunnel. The NBC filter system includes a blast valve and an independent fresh air fan.
The floor plan configuration includes:
a kitchenette
composting toilet
shower
storage space
The water system includes both freshwater and greywater management systems.
Ultimate Bunker provides bunkers of various sizes up to their 30' x 50' custom underground bunker ($750,000).
Built-in the same manner as their smaller bunkers, the custom series includes additional space with a variety of options:
air monitoring and oxygen scrubber
flushing toilet
septic tanks and additional water storage
master bedrooms
grow rooms (with lighting)
pet room
medical room
a vehicle garage
The custom bunkers can also have their power management systems extended to include:
solar
a battery bank with inverter
backup generator
wood burning heating system
Atlas Survival Shelters

Atlas Survival Shelters include several variations on the culvert theme. These include multi-plate corrugated culverts and watertight shelters (designed for regions of the country with high water tables).
These more expensive systems are comprised of larger shelters. The 12' x 48' Atlas Survival Shelter "Big Boy" is priced at $129,999.
The Big Boy is equipped with:
a decontamination room (the first 10' of the shelter)
gas-tight marine door
air filtration system
overpressure blast valves
escape tunnel and pod.
extensive shelving
underfloor storage
Luxury Underground Bunkers for Sale
I am considering luxury doomsday bunkers for sale as those that begin at over $500,000. Then the sky is the limit.
These shelters include not only extensions of those already discussed, but they'll also include shelters in survival communities and other ready-to-move-in shelters.
DEFCON Bunkers
The DEFCON Bunkers company sells a wide range of shelters from inexpensive 8' x 8' units to the 16' x 40' (and larger) DEFCON 2 bunker. This all Stainless Steel bunker starts at $490,000, has 4 separate rooms, and is entered via AR 500 bullet-resistant doors.
The generator room is EMP shielded and the air filtration system is NBC rated. The water system includes both water storage and a water inlet (e.g. from a well) as well as a composting toilet and greywater storage and pumping system.
The kitchen includes a full-sized sink and kitchen table. All lighting is 12-volt LEDs and the shelter includes a TV and DVD player.
Sale
ALIDE MR16 Led Bulbs 5W
【Save electricity bill & Save your money & Much...
【Easy Installation】Standard MR16 shape...
【Reduce costs and trouble of changing...
Atlas Survival Shelters
Breaking out the big guns, Atlas Survival Shelters offer the 6,000 square foot military bunker is available for $1,399,999!
This shelter includes extensive space for sleeping quarters (bunk beds for up to 100 people), multiple dining and recreation rooms, workout rooms, a hospital, and an armory. Each area is independently sealed via doors, and each bunk room has an escape tunnel.
The 6000 Sq Ft Military Round Culvert Bunker features:
Mud / Decontamination Room
6-Dog Gas Tight Marine Door
And Air – Swiss Made Air Filtration System
Overpressure Blast Valve
Escape Tunnel
Escape Pod
Shelving
Under Floor Storage
Rising S Company
For those with a little more spare change burning a hole in their checking account Rising S Company sells a complete line of larger and more extensive luxury shelters.
These include the maxed-out $8.3 million dollar Aristocrat shelter.
With living space for 50 people, the Aristocrat has multiple master bedrooms, dining areas, a greenhouse, and an above-ground safe house.
The Aristocrat can be configured with a pool, bowling alley, and a gun range for recreation. The vehicle storage area comes complete with a motor pool and workshop. A separate wing of the shelter encloses the power system.
Ready to Move In Luxury Bunkers
The final category of luxury doomsday underground bunkers for sale is those that come ready to move into.
Some are existing shelters for sale, while others are sold as a part of a larger survivalist-minded community.
Silohome
Our initial example is Silohome, which offers missile bases (read as nuclear bunkers for sale) repurposed as bunkers.
Options start at $450,000 and go up to $20 million depending on how you wish to build, what you wish to build, and how much of the 52' diameter 185' deep (17 stories) you wish to develop.
Subterra Castle
Our next example is a nuclear bunker for sale that is completely finished and ready to move into Atlas E missile site.
Subterra Castle is a 34-acre estate in Kansas that comes complete with a ½ mile-paved driveway, a security fence around the entire compound, a caretaker's cabin, observation towers, grass landing strip… oh, and a missile silo.
The main underground living space includes 4 bedrooms (with room for 2 more) multiple bathrooms, kitchens, 5,500 square feet of additional living space, and an 11,000 square foot garage/motor pool.
The current asking price is $3,200,000.
Survival Condo
Starting at $4.5 million dollars for the 3,500 square foot luxury suite within a repurposed missile silo, Survival Condo is the pinnacle nuclear bunker for sale.
The shared space condo is one of several within the 20,000-square-foot silo.
Amenities include redundant electrical, air, and water systems, aquaculture and hydroponic food production systems, a theater, bar lounge, and a general store.
The luxury condo can support up to 10 people and has a high-end kitchen, 50" TV, home automation system, and biometric keyless access.
Famous Bomb Shelter House For Sale (Las Vegas)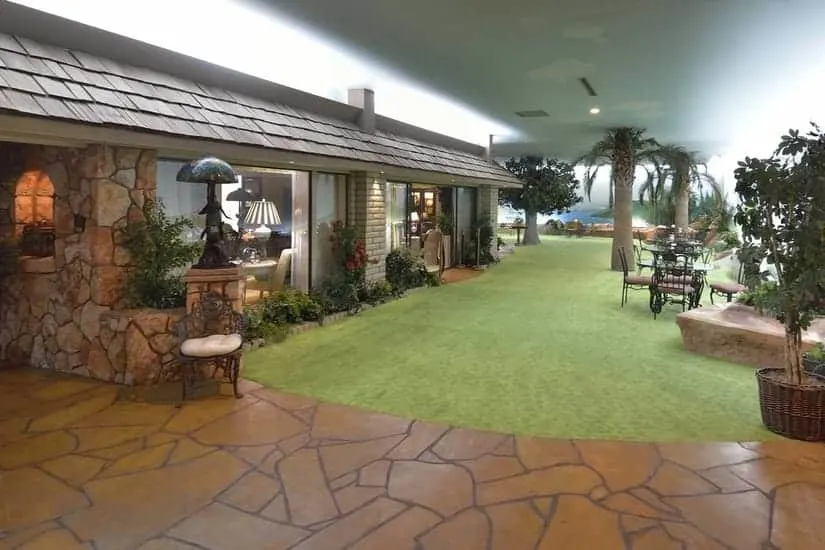 For those who wish to have a more traditional look and feel to their shelter this Las Vegas doomsday bunker for sale includes a little extra under the hood if you have the money (currently priced at $18 million).
The 2,100 square foot above-ground caretakers facility covers a 15,000 square foot underground bunker.
This bunker includes:
Talk about luxury!
Government Underground Bunkers for Sale
Not willing to undergo the hassle of finding a builder and an appropriate design for your own bunker? Willing to relocate?
How about a look at a few properties available from Uncle Sam's own surplus stock?
With the cold war of the 80's over, the US Government has surplused a number of properties that are ideal for post-apocalyptic living. With a little cash and a whole lot of renovation, you too can have a few thousand square feet of nuke-proof security.
It is surprisingly easy to purchase surplus Government property. Let's look at a few.
Communications Bunker
Located in Kansas, this surplus comms bunker is unfinished but much cheaper at $600,000 (cash only).
Underground and EMP proof it provides 8,000 square feet of living space, ample water storage, a propane generator, and a sewage lagoon.
I'll be the first to admit that the photographs give it an already post-apocalyptic Umbrella Corporation feel. That being said it has all the necessary facilities for current living. Any improvements would only make it more fitting for long term use.
Communications Bunker #2
For a more northeastern location, this nuclear-hardened EMP proof bunker is located in Ohio. 6,000 square feet of unfinished EMP bunker is yours for $800,000. The surrounding 5.6 acres are ready for farming.
It comes with both secured ventilation and winches for moving goods into and out of the underground facilities. It is currently grid-tied however the current generator and the potential for solar make it an ideal off-grid candidate.
Ready to Buy?
No matter your reason for going underground there are many options to make this dream a reality. No one size fits all here.
You can purchase components and build your own underground bunker. Or purchase a completed unit where all you need to do is dig the hole. Or you can buy into a complete community (including bar/lounge, and general store). Finally, you can search for government surplus underground bunkers for sale.
All levity aside, an underground bunker is no laughing matter and should be considered seriously. Thankfully others have taken it just as seriously and are ready to provide you with the tools and materials you need to make your dream a reality.
Frequently Asked Questions
How much do 'Luxury' bunkers cost?
The sky's the limit with Luxury bunkers. We have seen them go for as high as $30 million.
How much do 'Ready To Move In' bunkers cost?
Move in ready survival bunkers can go anywhere from $35,000 for bare-bones survival condo to $18 million for a traditional home with a built-in doomsday bunker.
What is the best location for an underground bunker?
A deeply rural area is best due to the ease of maintaining operational security and avoiding regular foot traffic by individuals or groups of people.
How far from home should you build an underground bunker?
Close enough to allow you to visit several times a year is an optimal distance. This ensures that you will check its security and be able to keep it stocked and rotate any necessary supplies.
How far from an urban area should you build an underground bunker?
As far as possible. Ideally at least 2 tanks of gas (approximately 800 miles) however you must balance this with your home location and your ability to visit the bunker several times a year.
What are some other uses for the land where I've built my underground bunker?
Vacationing, hunting and logging are all good uses for the bunker plot.
Resources:
https://www.missilebases.com/communications-bunker-concordia-ks
Other Bunker Articles You Will Love: