The Top 3 Survival Tools That Can Fit in Your Pocket and Go With You Anywhere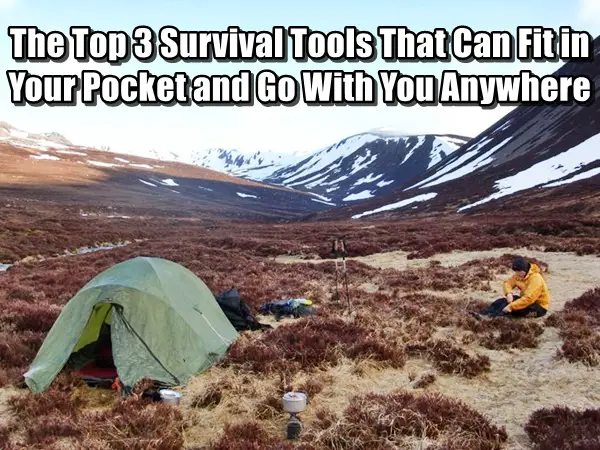 About the Author: Leighton Taylor is an outdoor enthusiast, writer, entrepreneur, and knife gawker. He occasionally writes something interesting at SurvivalKnifeExperts.com.
No one wants to be caught unprepared… especially if we're talking about a survival situation. Ideally, you'd have your bug out bag with you when the unexpected happens. In reality, you don't want to keep lugging around your emergency go-bag with you wherever you go just in case. Also, you certainly can't go around armed to the teeth with survival gear. It would be just plain weird. So, what do you do? The simplest answer would be to carry some survival gear right in your pocket. Undoubtedly, a fully equipped kit would be preferable. But in an emergency survival situation, having a couple of tools right in your pocket will definitely come in handy. Below are our top 3 choices for survival gear that will fit inside an Altoid tin.

We all know that any knife is better than no knife. So, if you can't carry your regular one around with you, why not get one that would fit really well in your pocket? The Ritter Survival Knife is light (0.9 ounces) and compact (3.81 inches overall). Best of all, it's a drop point, straight edge, fixed blade knife made of 3Cr13 high carbon steel! If you've read any of my other posts about survival knives, you'd know that these are features that I would prefer my survival knife to have because they ensure that the knife is sharp, reliable, durable, and versatile. Now, don't get me wrong. This little baby SHOULDN'T be considered as your primary survival knife because let's face it – you won't be able to really baton or chop wood with it. But, in a pinch, this knife will serve you well enough. It's actually the reason why it was designed – to provide you with a "last resort tool" that can enable you to perform cutting tasks (such as creating fuzz sticks & shelter) that need to be done so that you can stay alive and kicking. As an added bonus, the Ritter Survival Knife comes with a custom-fitted Zytel® sheath as well as a mint-size carrying tin. No need to look for an Altoid tin of your own, yeah? You also get some suggestions on what other survival gear you can put in the tin to create your own pocket survival kit.

So, you've got your knife. What's next? In a survival situation, you will need to build some fire whether for warmth or food. The best way to do that is with some waterproof matches since they're the easiest to use plus they still light up when wet. With this Stryke-All Emergency Fire Pack, you get the matches you need along with water-resistant match strikers that have adhesive backing so you can secure it on any smooth surface (like the back of your tin's lid).
OK, this might seem weird to the average Joe. But tampons are a great survival tool because they're so versatile. They can be used as tinder, bandages, and cordage (the tampon string is made up of several strings that are 4-6 inches long). Tampons also can be used as crude water filters. In short, tampon's aren't just a woman's best friend. They can also be a tool that will help ensure that you are able to live through any survival situation that may arise.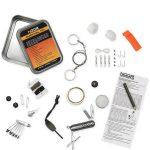 Now, I know I said top 3 when I started writing this article. And I'm pretty happy with my choices. But I decided to include this little gem for those who would rather have someone else build their survival kit for them. After all, not everyone can easily decide which survival tools should go into that Altoid tin and which ones can be left behind. This little pre-made kit was originally designed for the British Special Air Service. Inside the tin, you'll find several fire starters (flint + striker, matches), a pencil, compass, sewing kit, whistle, candle, fishing kit, water tablets, safety pins, a multi-functional knife w / fold out scissors, and some other stuff. Basically, you'd have everything you needed to survive long enough for help to arrive. The only things I'd change in this little kit would be to add a tampon or two (because you never know when you'll need it) plus to switch the multi-functional knife with the Ritter Survival Knife.
Whether you decide to buy this pre-made survival kit or build your own, it's essential to always have some survival tools within easy reach. You never know when you're going to need them.